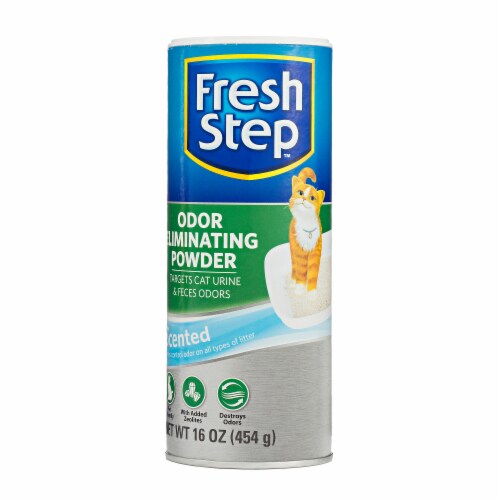 Hover to Zoom
Fresh Step Odor Eliminating Powder
Product Details
Keeping your cat's litter box and surrounding area clean is necessary for the health and wellness of the home. With clever design and innovation, kitty cleanup just got easier! The Fresh Step Odor Eliminating Powder acts as a cat deodorizer for litter box. It targets cat urine and feces odor to eliminate smells and leaves you with a no odor litter box. The cat litter deodorizer comes with added zeolites for better and more efficient kitty litter odor removal. This litter box cleaner is heavy duty and long lasting, so you can have a litter box free from cat litter odor longer. The litter box odor eliminator is also scented, for a revitalizing smell that will replace the litter box odor. You might actually start to like the smell of your litter box! The cat box odor eliminator is both pet-friendly and versatile; it acts as a litter box odor destroyer for all types of litter and will work for older cats too! This way, you can have an odor-free litter box for a cat of any age. This litter box odor neutralizer also helps prevent clumps from sticking to the litter box, which means less mess for you!
With the Fresh Step Odor Eliminating Powder, your guests will feel welcome in your home, even around the litter box; having a cat has never been so clean! The litter odor eliminator comes in a 16-ounce container and is easy to use, just sprinkle evenly on litter after scooping or anytime your litter needs a boost to remove litter box odor- litter box odor control that's quick and simple.
Ingredients: Sodium Bicarbonate (Baking Soda), Sodium Percarbonate, Silica, Sodium Sulfate, Fragrance, Zinc Acetate, Chlorophenesin, Benzalkonium Chloride.
CAUTION: Keep out of reach of children. Avoid contact with the eyes and skin. Wash hands immediately after use. In case of eye contact, flush thoroughly with water. If irritation persists, seek medical attention
---