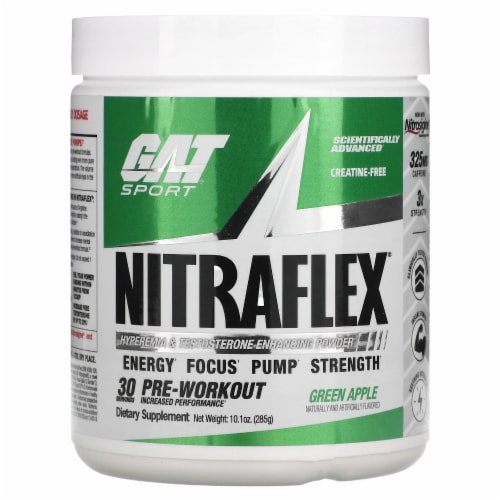 Hover to Zoom
GAT Sport Nitraflex Green Apple Flavored Hyperemia & Testosterone Enhancing Powder
10.6 oz
UPC: 0085961364888
Product Details
Nutraceutical Facts:
Physiological Basis: "Reactive hyperemia" describes the increase in muscle blood flow that occurs during high-intensity resistance exercise and produces the "pump" associated with increases in muscle size. The NITRAFLEX pre-training formula contains ingredients that in vitro, animal and clinical studies suggest possess properties that may help advanced athletes maximize energy, intensity, vascularity and reactive hyperemia (pumps) during their workouts, and provide long-term support of testosterone and nitric oxide levels in the healthy range when used as directed.
Unique Properties of Some of the Key Compounds in NITRAFLEX:
• 1-Scoop Serving: NITRAFLEX is so potent, only 1 scoop (1 serving) is necessary.
• CFB Helps Support Testosterone: In a clinical study, calcium fructopyranose borate (CFB) was shown to increase total and free testosterone within 3 hours ofa single dose equivalent to just over 2 scoops of Nitraflex. A longer-term study reported an increase in free testosterone by up to 29%.
---