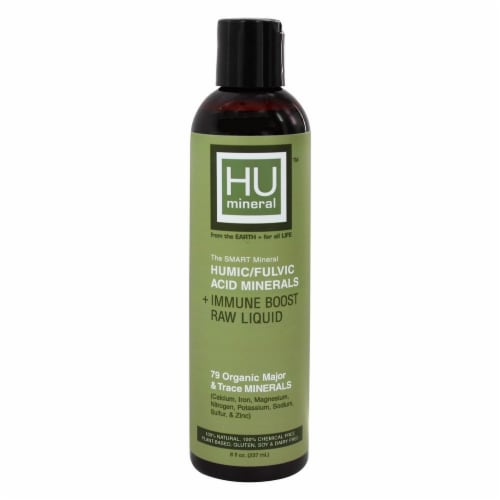 Hover to Zoom
HU Mineral Humic-Fulvic Acid Minerals plus Immune Boost Raw Liquid
8 fl oz
UPC: 0085320100404
Product Details
Why HU Mineral?
Mission: Health
Derived from a fresh water source
Organically derived an manufactured
No chemical cleansing
Made in the USA
HUmates (Humic/Fulvic Acid Minerals) are organic compounds rich in polyphenols (antioxidants), life-giving electrolytes, and major and Trace minerals. HUmates carry 8 major Minerals and 71 Trace. In warm climates, rivers flood depositing a thick layer of silt, which is CHOCK FULL of PLANT NUTRIENTS (leaves, seeds, roots, sheaths, flower buds, etc.) HU Mineral products are derived in the USA from ancient fresh-water deposits of lush tropical plant material that was buried at shallow depth (approx. 40 ft), and oxidized over millions of years. HUmates have shown a benefit to the health of plants, animals and humans through the delivery of highly condensed, easily assimible plant derived nutrients and organic minerals. HU Mineral - a holistic, highly condensed plant-based food NUTRIENT supplement MINERAL - promotes cellular health.
---