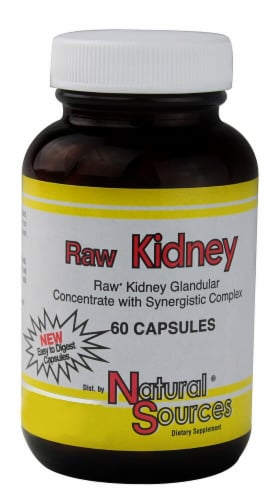 Hover to Zoom
Natural Sources Raw Kidney
60 Capsules
UPC: 0072651124760
Product Details
The kidneys, located high in the abdominal cavity, are the foremost regulators of the body''s internal chemical environment. The kidneys filter the blood and in the process eliminate wastes, maintain normal levels of nutrients and electrolytic minerals, regulate acid-base balance (pH), and control blood pressure. Hormones and nerves link kidney function to the liver, the adrenal cortex, and the circulatory system.
The four important roles of the kidney are the elimination of waste products, maintenance of normal levels of nutrients and electrolytes, the maintenance of blood pH, and the regulation of blood pressure.
Raw tissue concentrates, imported from New Zealand, are made from toxin-free lyophilized glands from animals grazed on rangeland free of pesticides, growth hormones, antibiotics or chemical additives.
*These statements have not been evaluated by the Food and Drug Administration. This product is not intended to diagnose, treat, cure, or prevent any disease.
---