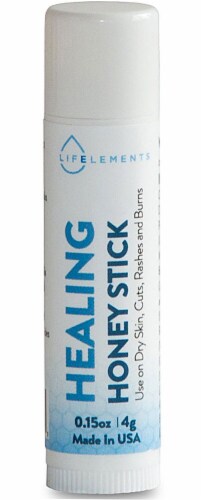 Hover to Zoom
Life Elements Healing Honey Stick
Product Details
Made with a nourishing blend of honey, beeswax, propolis, royal jelly, pollen, rich emollients and soothing botanicals. We never use harsh chemicals, petroleum, parabens or synthetic fragrances.
Meet your new best friend! Life Elements Healing Honey Stick is a soothing salve made specifically to use on dry skin, rashes, minor wounds, bee/insect stings, runner''s heels, saddle sores, calluses, hang nails and scars. It''s non-comedogenic, so it can be used as a daily facial moisturizer on all skin types. It''s also a great substitute for chamois and anti-chafing balm. And yes, it''s safe for children and pet''s paws.
As beekeepers, we know the superpowers of honey and its associated by-products, so we made sure to put all that pure bee goodness into our stick, along with the superpowers of tea tree, frankincense, myrrh, goldenseal, calendula and super rich emollients to keep your skin nourished.
The small, lip balm size is perfect to keep in your children''s pocket to soothe their boo-boos, the medium-size is perfect for your pocket or backpack and the large, 2oz size is perfect to keep in the first aid kit.
So go ahead - go out and carry a big stick™!
---