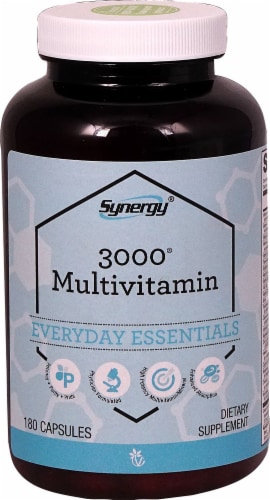 Hover to Zoom
Vitacost Synergy 3000 Multivitamin Capsules
Product Details
Synergy 3000® Multivitamin is a high-potency multivitamin and mineral formula with added fruit, vegetable and botanical extracts to supply anti-aging nutrition and provide the body with protection from free-radical damage.*
Synergy 3000® Multivitamin features effective levels and forms of potent, high-quality ingredients to provide real benefits for your health. Whereas many multivitamins use cheap ingredients and include only the minimum daily value of many important vitamins and minerals, Synergy 3000® is made with superior raw materials and optimal amounts and forms of nutrients.
A Johns Hopkins study found that only 28 percentto 32 percent of American adults meet the United States Department of Agriculture (USDA) guidelines for fruit and vegetable intake. Each daily serving of Synergy 3000® contains 500 mg of Vegetable Antioxidant Support Blend a combination of broccoli, tomato, carrot, spinach, kale and Brussels sprout powder, plus broccoli sprout and onion extracts. It also includes 200 mg of Berry Blend, a blend of strawberries, blueberries, blackberries, and cranberries plus grape and pomegranate extracts.
In addition, Synergy 3000® Multivitamin contains important antioxidants such as coenzyme Q10 (now 100 mg), alpha lipoic acid (now 300 mg), standardized extracts of ginkgo biloba, green tea, grape seed, milk thistle, lutein and zeaxanthin.*
What are the key benefits of Synergy 3000® Multivitamin?
Provides 22 essential vitamins and minerals in optimal form, such as Advan-C®, an acid-neutralized form of vitamin C that's gentle on the digestive system.
Features several powerful antioxidants including green tea extract, alpha lipoic acid, acetyl L-carnitine, ginkgo biloba extract and more.
*These statements have not been evaluated by the Food and Drug Administration. This product is not intended to diagnose, treat, cure, or prevent any disease.
---